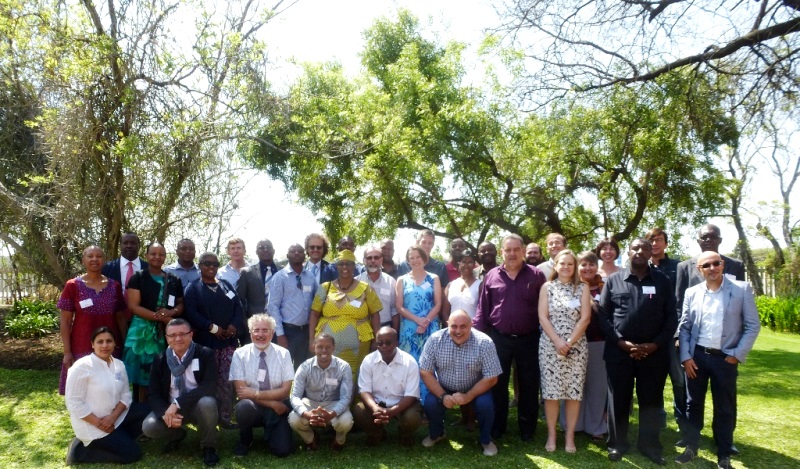 First ERFAN Regional Meeting in Southern Africa
IZSAM and the African partners of the SADC (Southern African Development Community) Region, such as Angola, Botswana, Mozambique, Namibia, South Africa, Tanzania, Zambia and Zimbabwe, organized the first ERFAN Regional Meeting in Pretoria. An opportunity to outline a four-year action plan to make the ERFAN Scientific Network operational. The Regional Representatives of the International Organizations such as SADC, European Union, OIE (World Animal Health Organization), FAO (Food and Agriculture Organization of the United Nations), AU-IBAR (African Bureau of Animal Resources), IAEA (International Atomic Energy Agency) and delegates of the Ministry of Foreign Affairs and International Cooperation and the veterinary institutions defined the organizational and operational structure of ERFAN.
The meeting was attended by 38 delegates from eight countries of the Southern African Development Community (SADC) and Italy, belonging to 13 institutions including Central Veterinary Laboratories and Faculties of Veterinary Medicine and representatives of International Organisations such as OIE, AU IBAR and EU.
The Italian Ambassador to South Africa, Pietro Giovanni Donnici, accompanied by Pierguido Sarti from the Embassy's Science and Technology Office, addressed the opening session. During the speech, several project hypotheses were put forward on which to build future scientific collaboration relationships that can be funded by the Ministry of Foreign Affairs.
The Dean of the Faculty of Veterinary Medicine of Pretoria, Darrell Abernethy, presented the programme of the workshop, praising the ERFAN initiative within the framework of scientific cooperation between Africa and Italy.
Starting from the resolutions adopted in Teramo, during the March 2017 meeting, the one and a half day work covered topics such as scientific research and technological innovation.
The accompanying and mentoring activities of Reference Laboratories, OIE Collaborating Centres and ERFA network towards African National Laboratories, already recipients of OIE twinning projects, were discussed, defining a road map and sharing future objectives for their consolidation at regional level and for achieving, in the future, the role of Reference Laboratory or OIE Collaborating Centre.
The delegates of the African institutions defined this accompanying activity as "strategic", a new approach proposed by the Scientific Network. They unanimously indicated the Zooprophylactic Institute of Teramo as the manager of the "ERFAN Project" and defined its organisational structure.