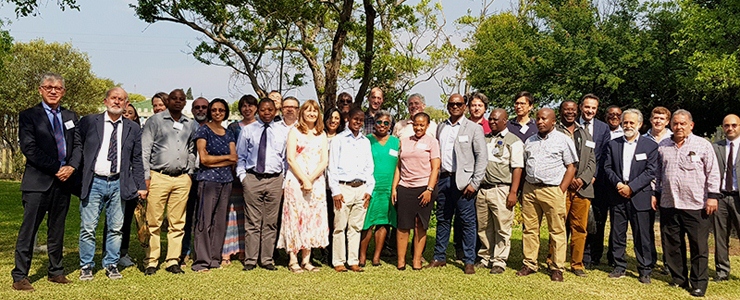 Second Regional Meeting in Southern Africa
The meeting brought together representatives of scientific institutions from 8 African countries who discussed the strengthening of research through Enhancing Research for Africa Network – ERFAN: the scientific network established in Teramo in March 2017 during the first international meeting organised by IZSAM, in which 17 institutions from 13 African countries participated.
The three-day meeting in Pretoria on 14, 15 and 16 November was  attended by Dr. Silvio Borrello, Director General of Animal Health and Veterinary Drugs of the Ministry of Health, and Dr. Romano Marabelli, Advisor to the Director General of the OIE. 
During the meeting, the importance of three key elements around which ERFAN activities will be planned emerged: the transfer of technology and innovation, research and support to the Scientific Centres of Excellence, including the OIE Reference Laboratories and Collaborating Centres, present in Africa and Italy. The experts from the IZS of Abruzzo and Molise reiterated the importance of introducing new technologies applied to veterinary science, especially in Bioinformatics and in the use of satellite data at the service of research and development in African countries. The participation of five Italian Experimental Zooprophylactic Institutes, out of the existing 10, laid the foundations for the creation of a network of IIZZSS that, as an integral part of the Italian system, can contribute to the internationalisation of the components of science and research.