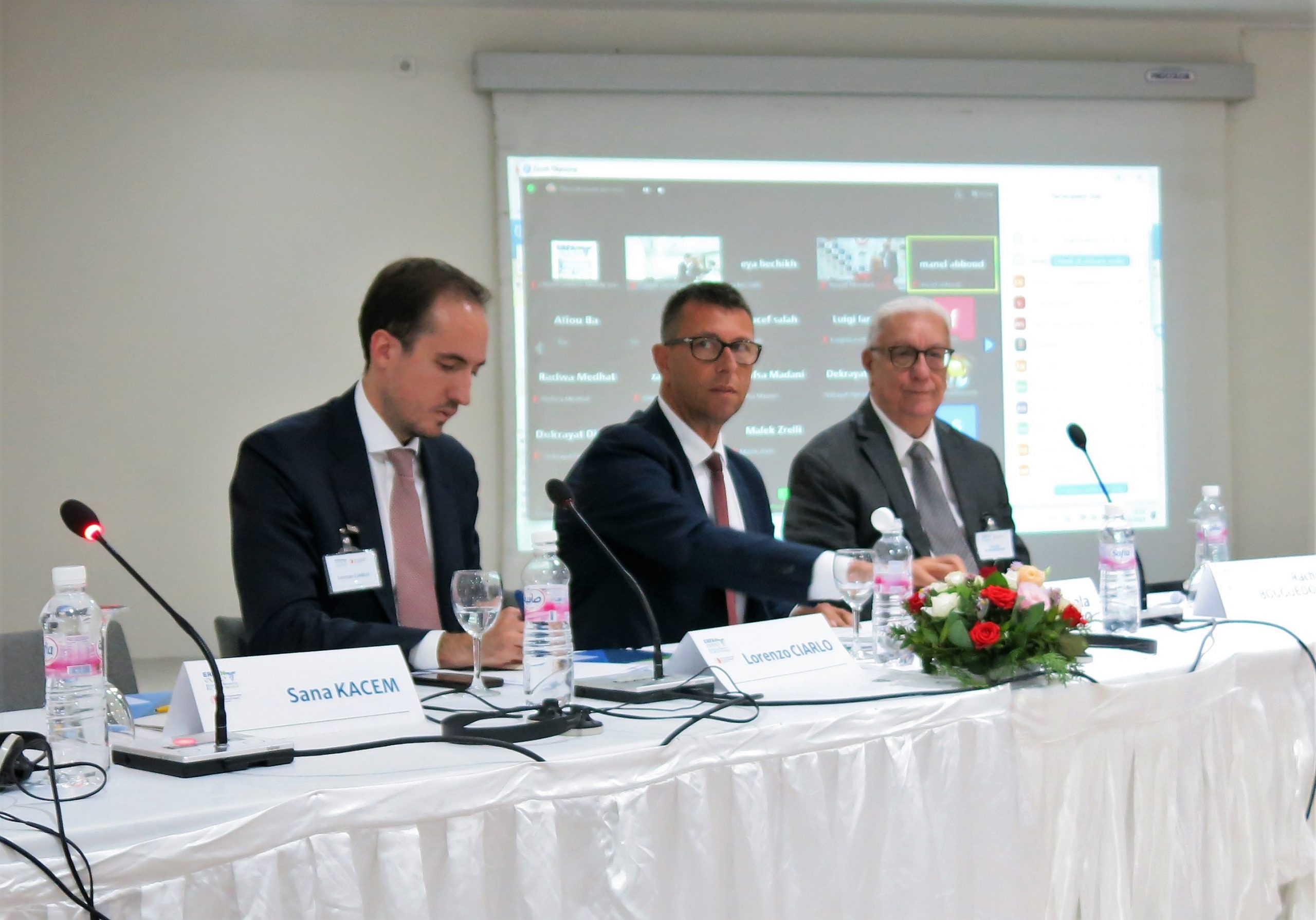 ERFAN Regional Meeting – North Africa, Tunis 3-5 October
The regional meeting for the North and Horn of Africa took place from 3 to 5 October in Tunis at the Golden Tulip and was attended by 45 participants from various veterinary institutions and international organizations. The meeting was attended by 40 ERFAN partners via Zoom.
The delegates came from Ethiopia "Animal Health Institute", from Somalia "University of Benadir" and "Animal Health and Public Veterinary Services", from Morocco "Institut Agronomique et Vétérinaire Hassan" in Rabat, from Mauritania "Office National de Recherches et de Développement de l'Elevage et du Pastoralisme" in Nouakchott, from Tunisia "Institut de la Recherche Vétérinaire" in Tunis and "Ecole Nationale de Médecine Vétérinaire" in Sidi Thabet, from Senegal "Laboratoire National de l'Elevage et de Recherches Vétérinaires" in Dakar from Libya 'National Centre for Animal Health' in Tripoli, 'University of Libya', the 'National Research Centre for Tropical and Transboundary Diseases', from Algeria 'Faculty of Veterinary Medicine of the Saâd Dahlab University of Blida' and 'National Institute of Veterinary Medicine', from Egypt 'National Research Centre' and the 'Central Veterinary Laboratory' of Sudan, which wanted to participate in the online linked event, despite the dramatic situation in the African country.
The African colleagues met representatives from the Istituto Superiore di Sanità and the five Istituti Zooprofilattici participating in the network, Turin, Foggia, Palermo, Portici and Teramo.
The meeting was opened by the Director General of the IZS in Teramo, Dr. Nicola D'Alterio, the representative of the Italian Embassy in Tunis, Dr. Lorenzo Ciarlo, the representative of the WOAH Sub-Regional Office for North Africa, Dr. Rachid Bouguedour, and the Director General of the Veterinary Services in Tunis, Dr. Sana Kacem.
The meeting was also attended by representatives of several international organisations: Philippe Ankers, FAO sub-regional coordinator for North Africa, EL-ZIQ Ibrahim, WHO representative in Tunisia, Christian Berger, senior agriculture specialist at the World Bank, Stefania Fantuz, AICS rural development manager in Tunisia and Madeline Newman, project manager of the Star – IDAZ network.
The purpose of the meeting was to highlight the Network's achievements from 2019 and to discuss the objectives of the new phase of the "ERFAN 2" project, while also laying the foundations for future partnerships.